In April 2019, the Institut für Zeitungsforschung der Stadt Dortmund – Institute for Newspaper Research of the City of Dortmund –  organized a conference entitled "From News Presentation to Data Journalism: Communication Design, News Design, Information Design". The article here is a summary of my lecture on trends in print and online of newspapers in Europe. It is an extended version of the article, which was published in German language in the journal "medien&zeit" 1/2020.
Norbert Küpper
Abstract

The circulation of printed newspapers is declining almost everywhere. Statistically speaking, 14 to 29-year-olds read only two minutes a day of printed newspapers and magazines. Nevertheless, the assumption that there will soon be no more newspapers is wrong, because young readers use online content of newspapers for 49 minutes a day1. Newspapers are successful in most digital news channels and have high usage figures. Media companies are reacting to the changed reader behaviour by adding more background information to the printed newspaper and/or converting it into daily magazines. Methods of reading research such as ReaderScan, Reading Value or eye tracking tests are important for the further development of newspapers in print and online, because they can help to identify user behaviour. Newspapers are becoming a 24-hour medium, because they permanently accompany their users by means of morning newsletters, podcasts and news websites updated several times a day.
Introduction

If you follow the development of the newspaper over several decades or even centuries, you can see that newspapers have always been open to technical and content innovations. Today, newspapers are more innovative than ever before due to the Internet and the resulting change in reader behavior.
Too hasty prediction of newspaper death
In most countries of the world, the circulation of printed newspapers is declining. With a few exceptions, this is also the case in the German-speaking world. In Germany, the circulation of printed newspapers fell from 27.3 million in 1991 to 13.5 million in 20192. Critics conclude from this that the newspapers will soon come to an end. However, this is a mistake, because newspaper content is still being consumed, even with a higher readership than before. After all, newspapers are of course not only in print, but are also active online on all possible news channels. Readers are switching more and more from the printed newspaper to its online offerings. But newspapers are also successful on Facebook, Twitter and other social media channels, where they are popular and newspaper content is shared. That's why many publishing houses today call themselves media houses and not just newspaper publishers.
If you look at which newspapers are successful today, you see the New York Times, the Washington Post and the Financial Times in London. What these newspapers have in common is that they are known as serious news sources and are also used internationally in print and online. The New York Times, for example, had more than one million new digital subscribers in 20193. One of the most important reasons for their success is that these newspapers have content that is not found in other media.
Exclusivity is important because people are curious. On the other hand: if you don't have any news, you'll have problems. Therefore, it makes little sense for newspapers to print the news that many users read on their smartphones yesterday on paper the next day. Daily newspapers must therefore have fresh content that is independent of the daily stream of news agencies. Exclusive content in a reader-friendly design is required for the printed newspaper. But it is still part of the news business that newspapers take up current topics and report in depth.
Current trends are largely based on reading research

Reading research confirms the current trends and has partly triggered them. The research methods "reader scan" and more recently "Lesewert" – "reading value" – show that long articles are definitely read4. Quote: "Long texts of 150 lines and more have the highest reading value." That means they are most used within a newspaper. With the research methods "ReaderScan" and "Lesewert" scanning pens are handed out to readers. The readers mark up to which text passage they have read. The evaluation is done daily. Improvements can be made to the print product during the test phase lasting several weeks. With this method, texts became considerably longer, because one was previously unsure up to which text length was read at all.
Another test method is eye tracking. Here, newspapers in print or online are examined by measuring the eye movement. One can see in which order the information is absorbed and up to which text passage is read. These tests are carried out with 20 to 30 people. This method repeatedly shows that images are much more highly regarded than texts5. Images almost always form the introduction to an article and are important points of view on a newspaper page. Let's take a look at the trends:
The newspapers report in more depth, texts become longer


Nationwide newspapers have always had long background pieces. But for some years now, local and regional newspapers have also been cultivating in-depth reporting with correspondingly longer texts. Reporters are increasingly being used to provide content that is self-generated. The official communication of a community or an association is increasingly being pushed back in comparison to the self-researched material. At least that is how it should be. Newspapers in Scandinavia have always followed this trend. To quote Carlo Imboden: "People were not interested in special interest and announcement journalism, but in stories that affect or make them affected6".

Front pages become more poster-like

Years ago, front pages should preferably mark 16 to 20 topics so that the reader can get an overview and buy the newspaper at the kiosk. The best way to see the development in front page design is to compare old and new front pages. The disasters of Chernobyl in 1985 and Fukushima in 2010 offer opportunities for comparison7. Today it is assumed that people interested in news are permanently informed by the web. The newspaper therefore also signals on the front page: Here there are other topics or here there is more in-depth information. Examples are the Berliner Zeitung and the Handelsblatt.

Newspapers are becoming more handy and daily magazines

In Germany, the Handelsblatt was successfully converted to tabloid format in 2004. Tabloid format means half of the normal newspaper format. The Handelsblatt was converted to half Nordic format. Newspapers all over Europe have switched to this format or have been using it from the beginning: The Times, Público, Kleine Zeitung, Libération, Svenska Dagbladet, Bergens Tidende, Luxemburger Wort, de Volkskrant, Het Parool, Trouw – the list goes on and on. Only in Germany and Switzerland is this format used by only a few newspapers. Newspapers in tabloid format are usually stapled. This prevents the pages from slipping apart and allows layout over the left and right pages. Newspapers in tabloid format often have 48 to 64 pages. This corresponds to 24 to 32 pages in full format. This allows the editorial staff to concentrate on the essentials and emphasizes their own strength, their own topic finding. In the case of the Handelsblatt, for example, official press releases from companies and general news, which every newspaper has, have been omitted in favour of the self-generated content, which one has exclusively. In addition, more manpower can be deployed in digital media. In addition, newspaper editorial offices are moving away from the editorial deadline in the evening. For many, the editorial deadline is three times a day: morning, noon and evening. News websites are updated at these times.

Newspapers are becoming more visual and therefore easier to understand


When a lot of everyday news is distributed on the web, there is room for better print reporting. "Better" means more in-depth texts, but also a stronger visual presentation of the content. The photo component of newspapers has been increasing for some years, but so has the amount of infographics. Of course the newspaper remains a text medium. But more and more content is presented more visually. There is currently a trend for daily newspapers to hire art directors. Together with media designers, it is their job to present the content in a more readable and understandable way than would be possible with plain text. However, it would be a mistake to assume that designers decorate. Instead, they present news in a visual form and ensure that content is conveyed in the best possible way. This can be done through text, but also through photos, infographics or a combination of these elements.

Newspapers are successfully present on all media channels


As mentioned at the beginning, newspapers are not only successful in print, but also online. Some of the largest news websites in the world are newspaper sites, and in many countries these websites top the lists of user numbers8. Examples from a worldwide ranking of news websites: 4th place, New York Times, 13 The Guardian, 14 Times of India, 15 Washington Post, 23 The Independent. But newspapers not only bring fast news to the web, they also produce more in-depth information, for example multimedia stories. It is a combination of texts, images, films and animated infographics that are used to convey content in greater depth and even better than before.

Newspapers provide readers with information 24 hours a day


The day does not necessarily begin with the consumption of the printed newspaper. Many newspapers also offer a morning newsletter, often free of charge, which presents the most important topics of the day. Especially famous is Checkpoint, the newsletter of Der Tagesspiegel in Berlin. In the meantime, the publishing house has launched other paid newsletters on individual topics and city districts. Checkpoint offers a free short version and a long version for a fee. Podcasts are another format. The audio files are transmitted daily and you can listen to the news and opinions of the newspaper in a podcast, for example in a traffic jam. Famous was the Morning Briefing, founded in 2018 by Gabor Steingart, the then editor-in-chief of the Handelsblatt. In the meantime he has founded his own company: mediapioneer.com. There is also a podcast from this company. Mediapioneer is to become a successful new news medium from Berlin. According to Werben & Verkaufen (WUV)9, Axel Springer Verlag is a strategic partner and shareholder. Newspapers are increasingly accompanying readers in their everyday lives and ideally they provide them with important and interesting news around the clock. This is best done with a subscription system. The retail sale of texts and news on the Internet does not work. While people like to buy music titles for a small amount of money and listen to them over and over again, the process of individual newspaper articles does not work. Probably because one does not want to read them several times. With corresponding projects only very small incomes come off.

Newspapers have exclusive content in print and online


The mass product of daily information is available free of charge from many news websites. There are approaches from newspaper and magazine publishers to demand payment for the content, but those who want to can get serious newspaper content on the web 24 hours a day for free, so newspapers are increasingly looking for exclusive content that no other medium has. This requires journalists with creative ideas. It is less about uncovering scandals, but more about finding new ideas for content. Many publishers are already very active in this area. The fine dust radar of the Stuttgarter Zeitung is just one example. Users can see the particulate matter levels in the Stuttgart region every hour if they use this tool.
The fundamental problem has not yet been solved

The fundamental problem is the declining income from print and the still insufficient financing from the online sector. The industry service www.meedia.de writes at the end of 2019 on the subject of average reading time per day1: "For 14 to 29 year olds, 2 print minutes are as opposed to 49 online reading minutes. Figures that will have to be converted into sales in the future". So in the future there will be enough young readers, you just have to convince them to pay for good content. It's a problem that can be solved.
The Corona crisis shows the great need of users for serious information. Below you will find an update of this article.
Examples of trends in print and online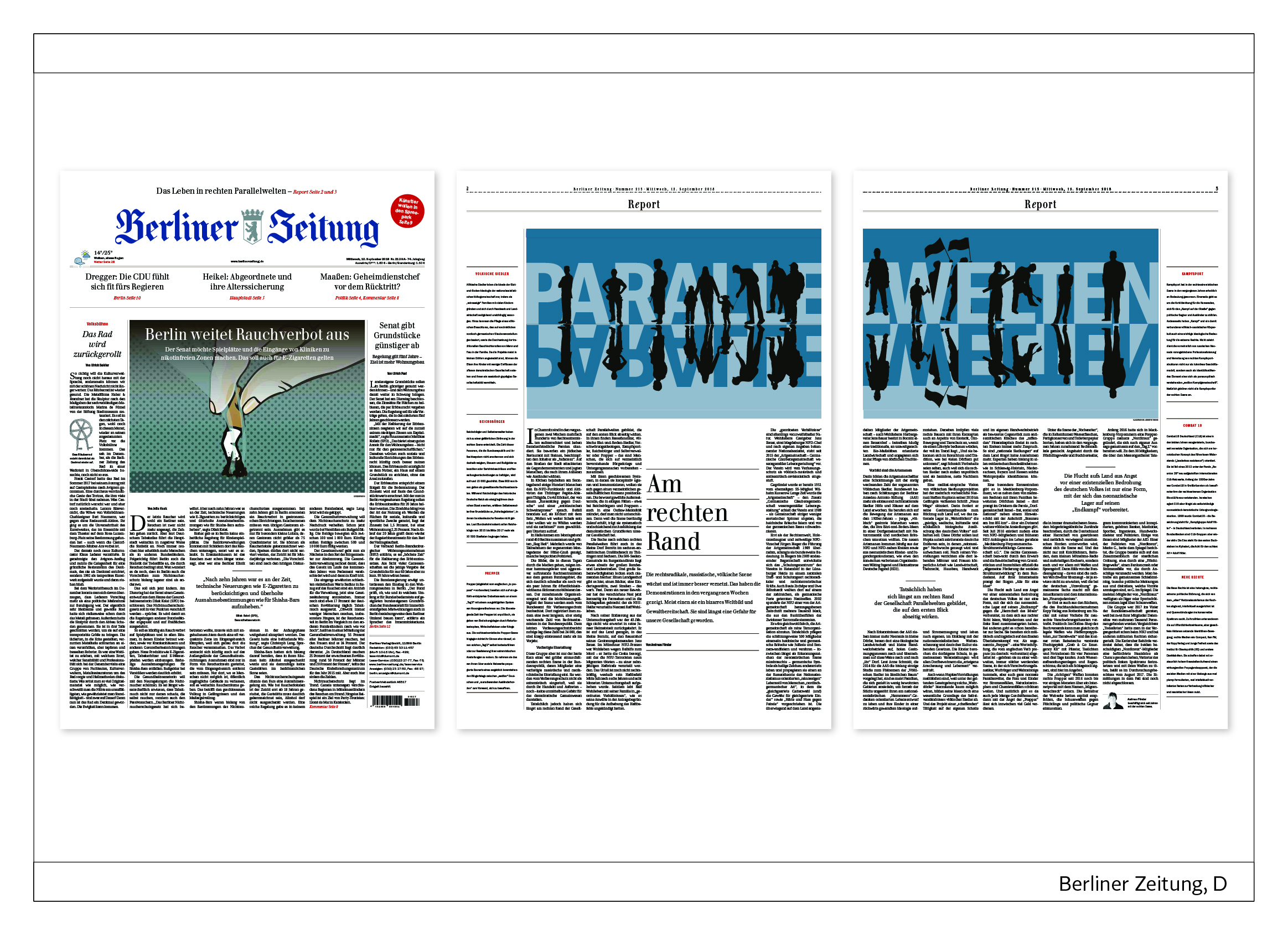 Trend front page: On the front page of the Berliner Zeitung of 12 September 2018, significantly fewer topics are touched upon than before10. The reason is clear: Many readers follow the daily news flow in the social media and need different or more in-depth information. The newspaper is following this trend, and on pages 2 and 3 one topic is dealt with in greater depth.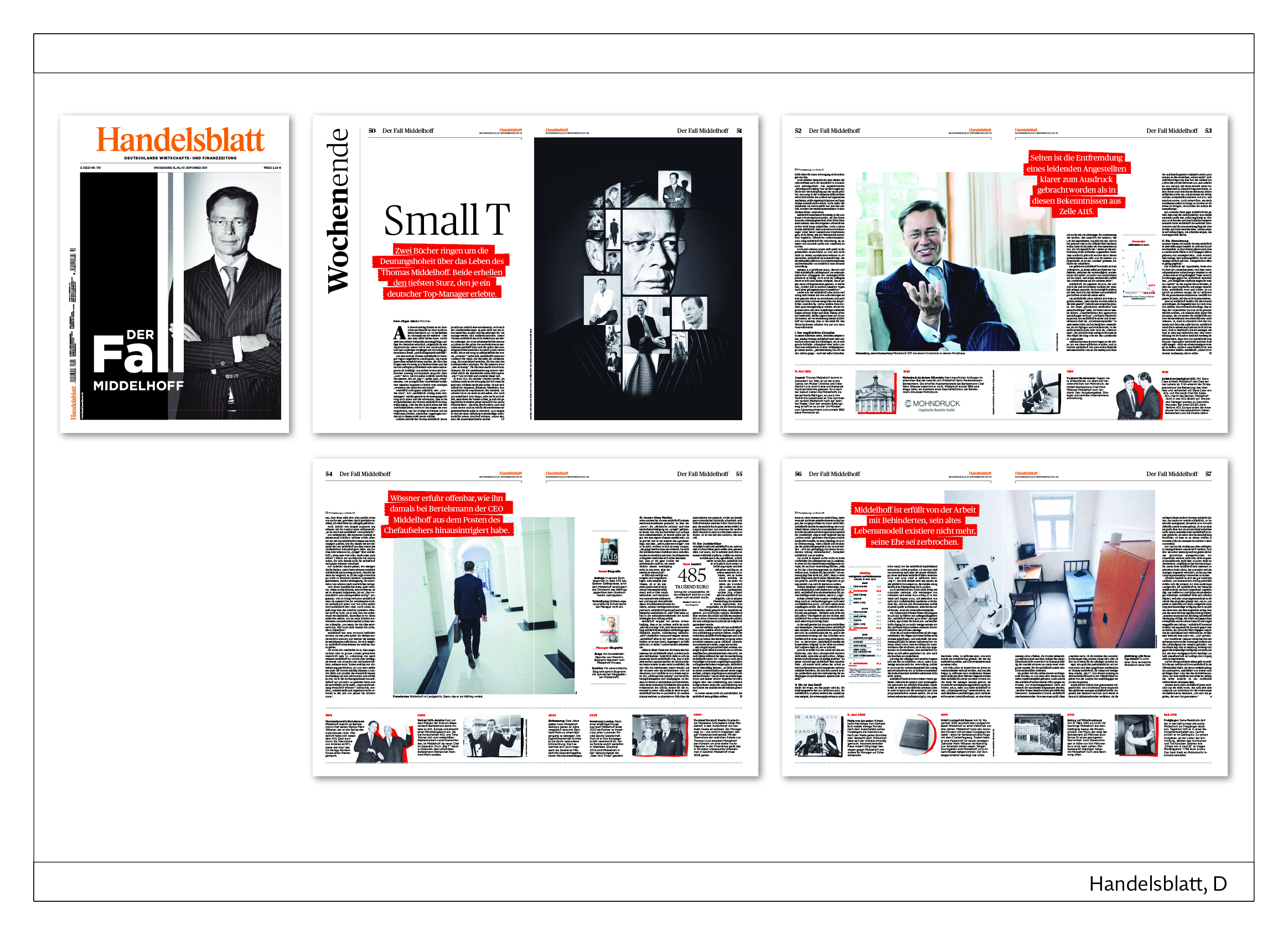 Trend cover and cover story: The Handelsblatt of 15, 16 and 17 September 2017 shows different trends: The front page becomes a poster, because on Fridays only one topic is presented in a striking way. Cover and cover story will be significantly longer. This example will run over ten pages, starting on page 50. The newspaper becomes a magazine with a much looser layout.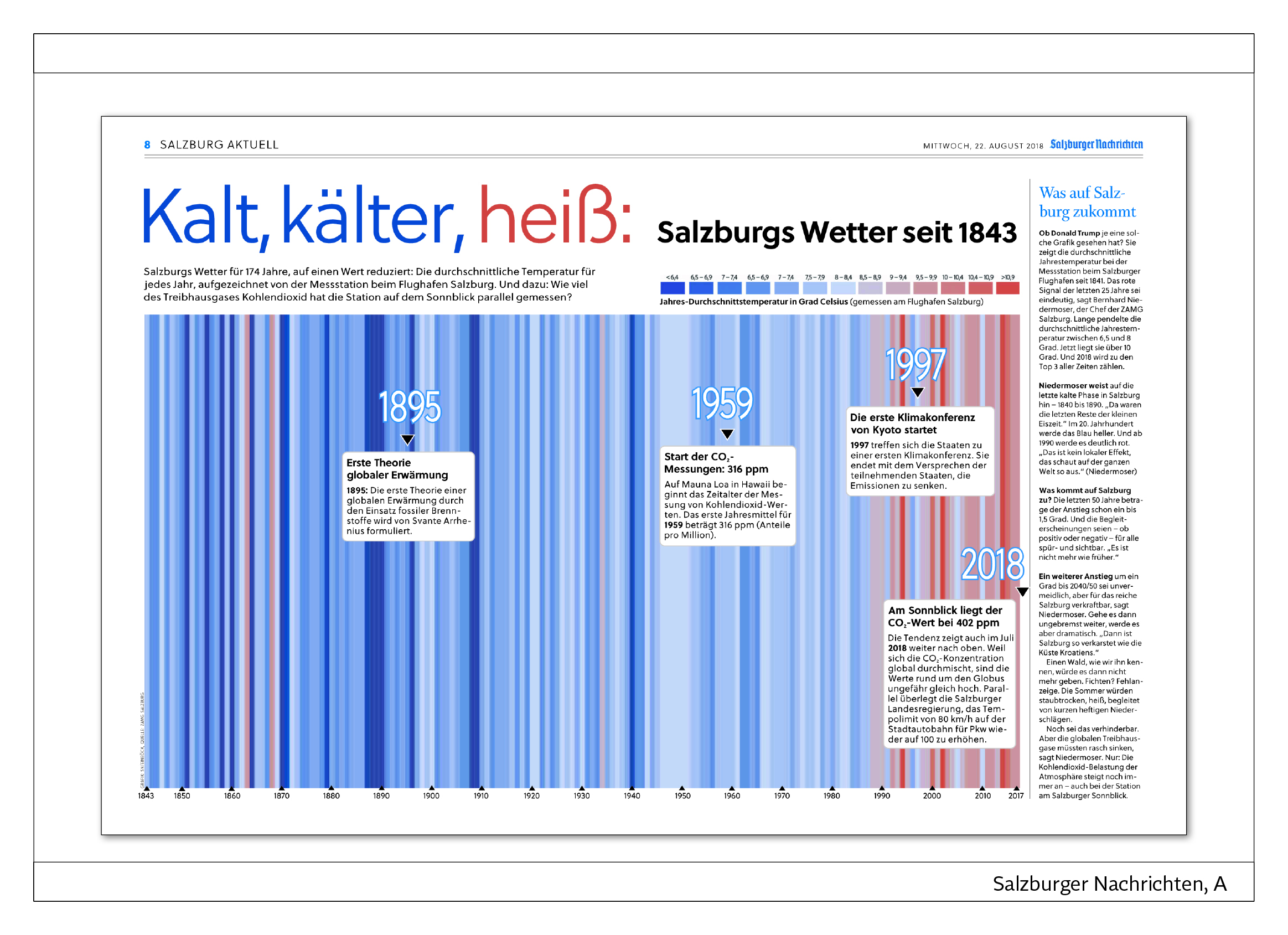 Trend visualization of topics: The Salzburger Nachrichten of 22 August 2018, page 8-9, (local section) visualise the topic of climate change by graphically displaying weather data from the region. The small text blocks contain detailed explanations.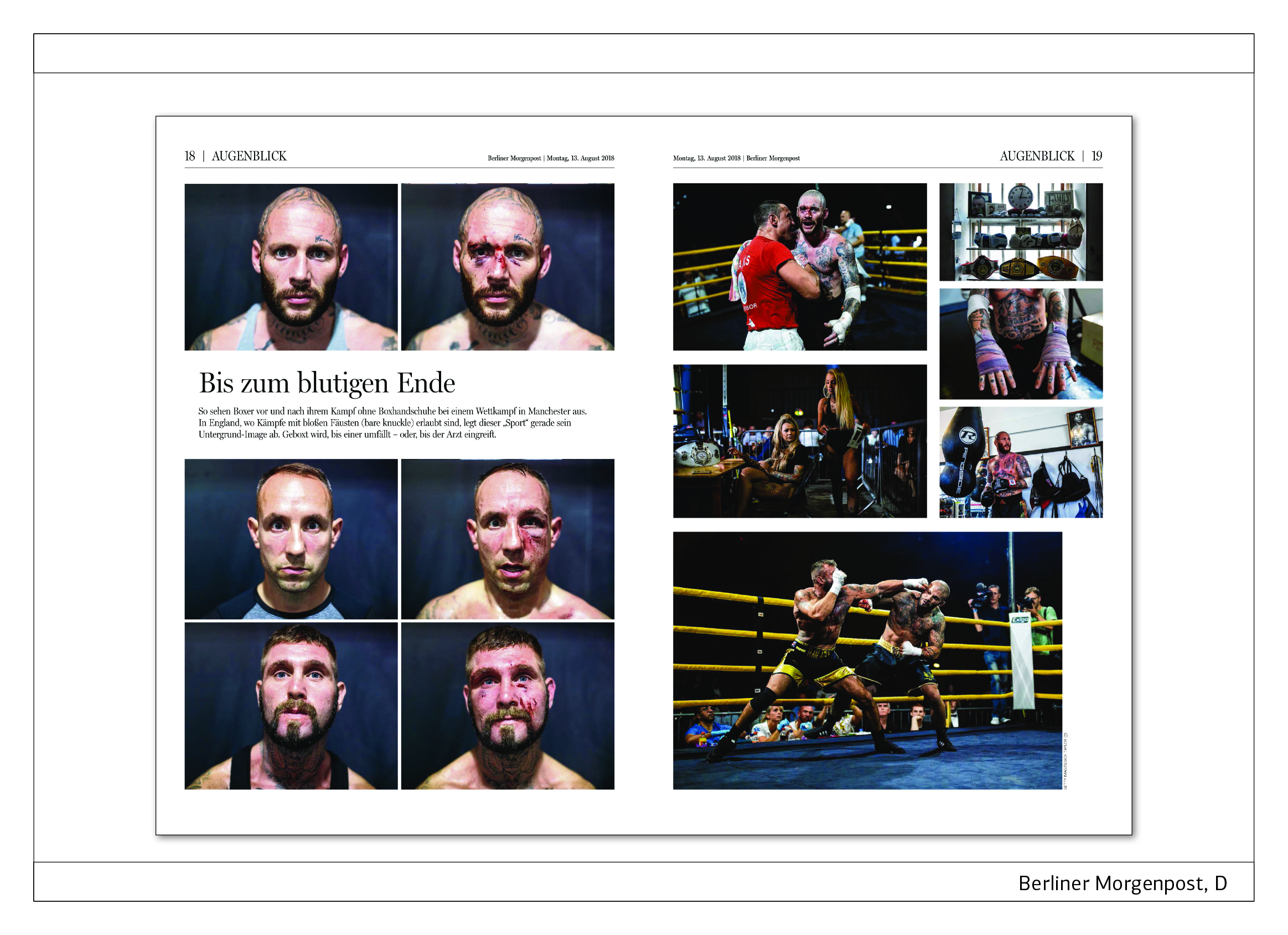 Trend photo reportage: The Berliner Morgenpost of 13 August 2018, page 18 and 19 illustrates the British sport bare knuckle – boxing without boxing gloves. The left side shows boxers before and after the fight. The photos on the right give an insight into the atmosphere of a fight. As a result, there is a trend towards more use of photography for news coverage than before. Newspapers are becoming more visual in print and online.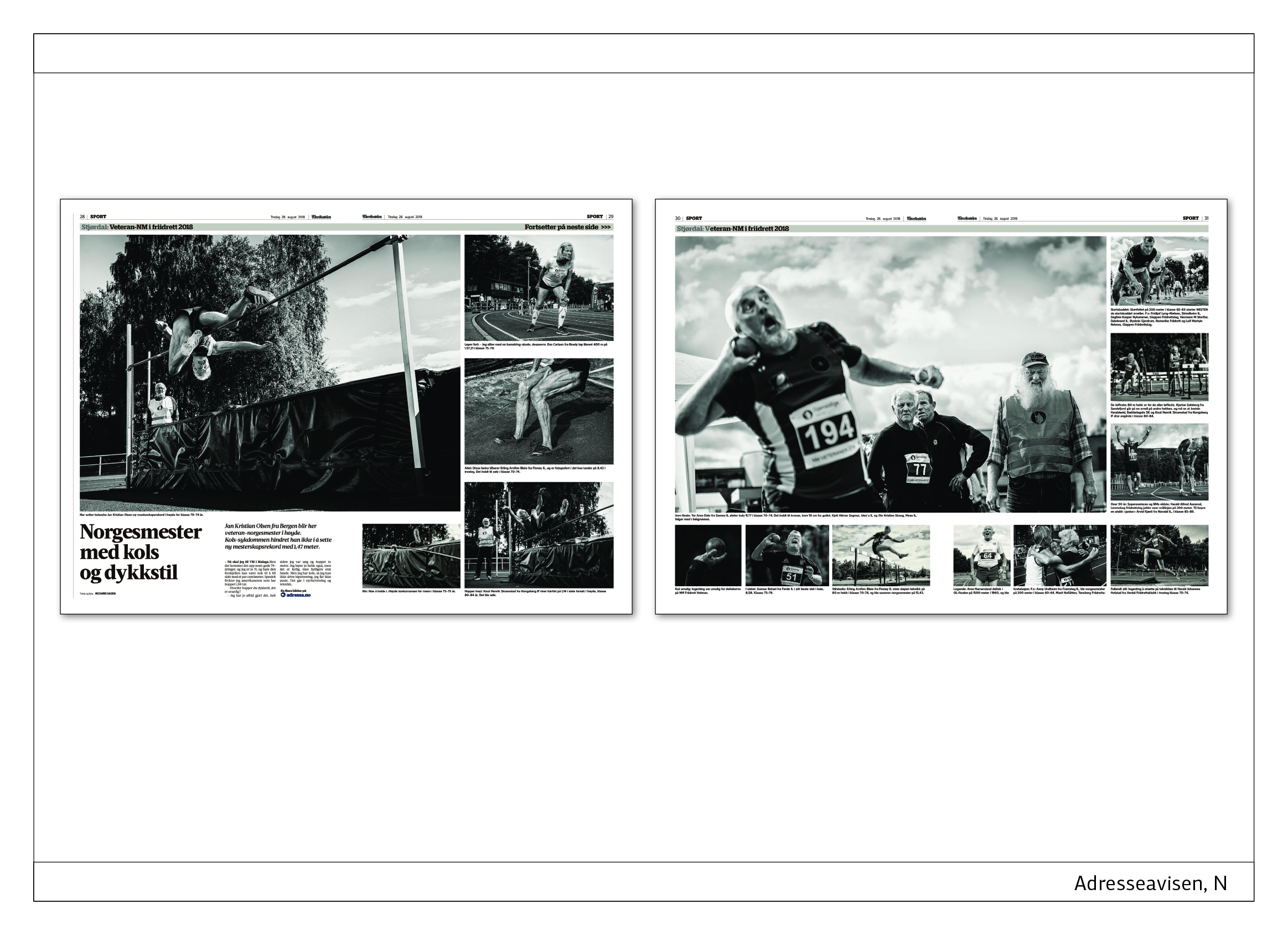 Trend photo reportage: Adresseavisen shows a senior athletics competition on two double pages. The story is mainly told with pictures. An introduction and captions accompany the photos.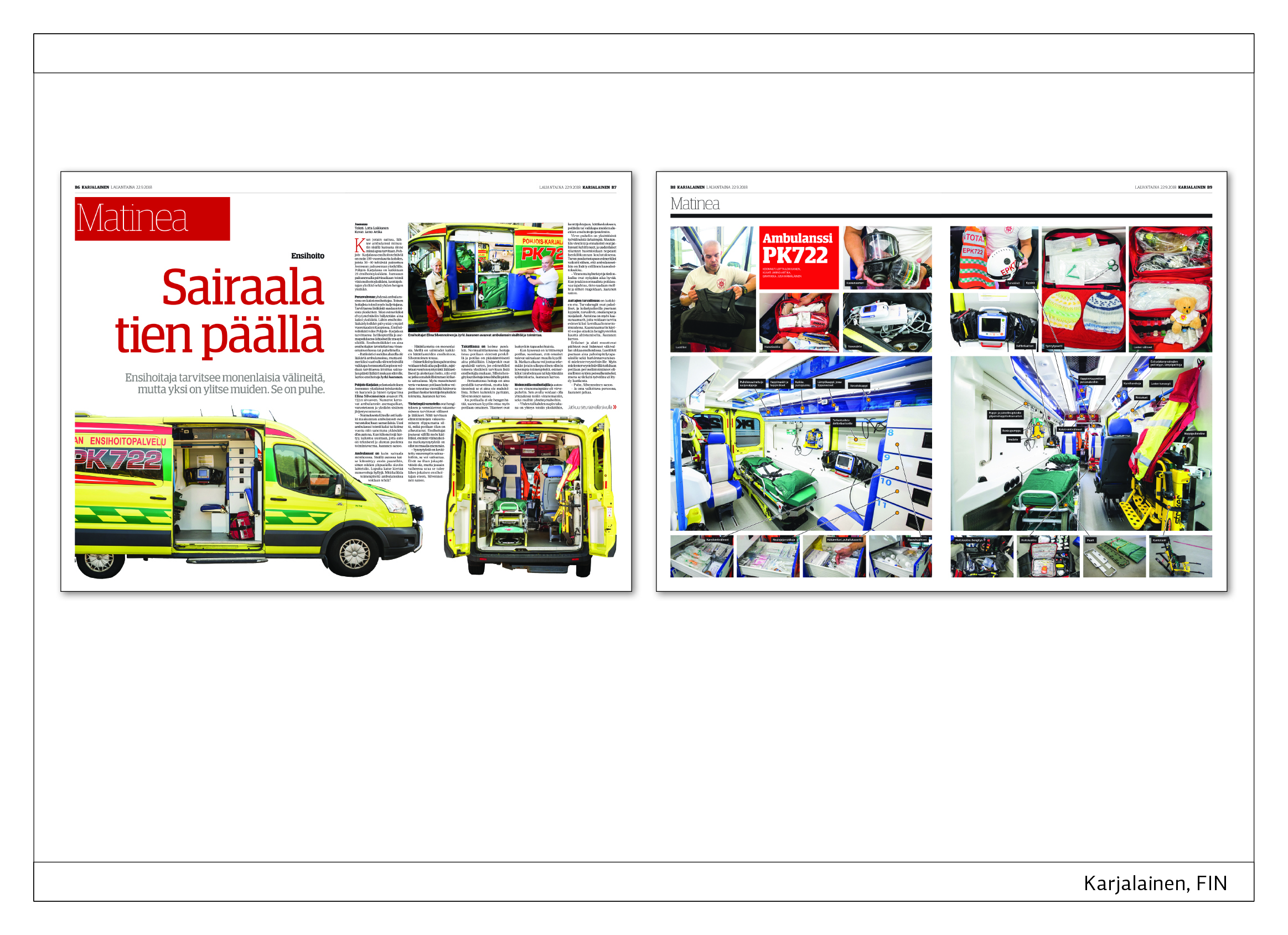 Trend Visual Storytelling: The Finnish newspaper Karjalainen of 22 September 2018, page B6-B9, shows a hospital on wheels in the local section. It is shown from the outside, on another double page the inside is shown and explained with small text blocks. Four pages in the local section are thus dedicated to this topic.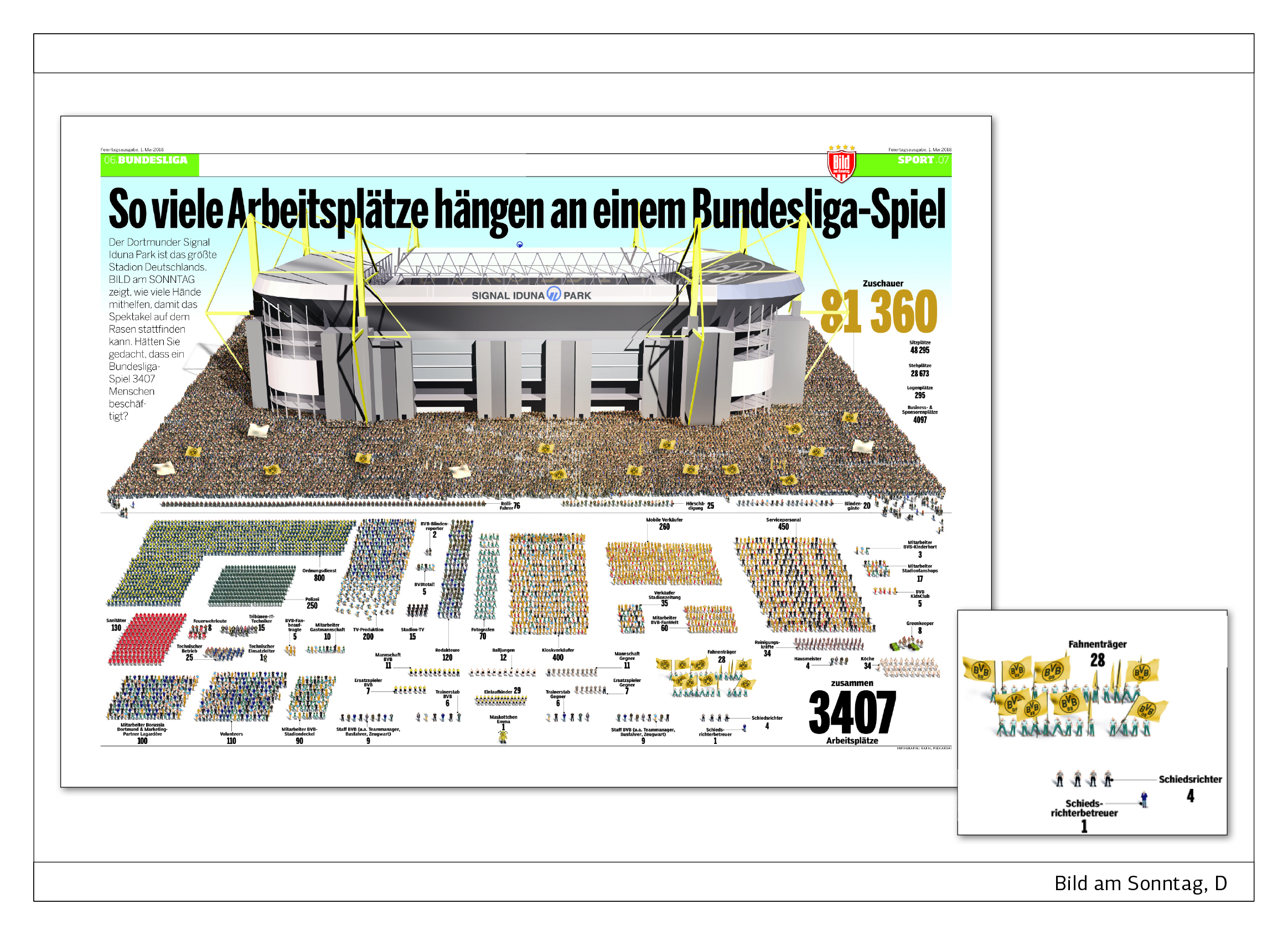 Trend Infographics: The method of image statistics – called Isotype – and developed in the 1920s by Otto Neurath in Vienna, is perfectly applied to this double page of the Bild am Sonntag from May 1, 2018, page 6-7. The 3,407 employees of a Bundesliga match are even shown in 3D view in the foreground. A detail enlarged on the right.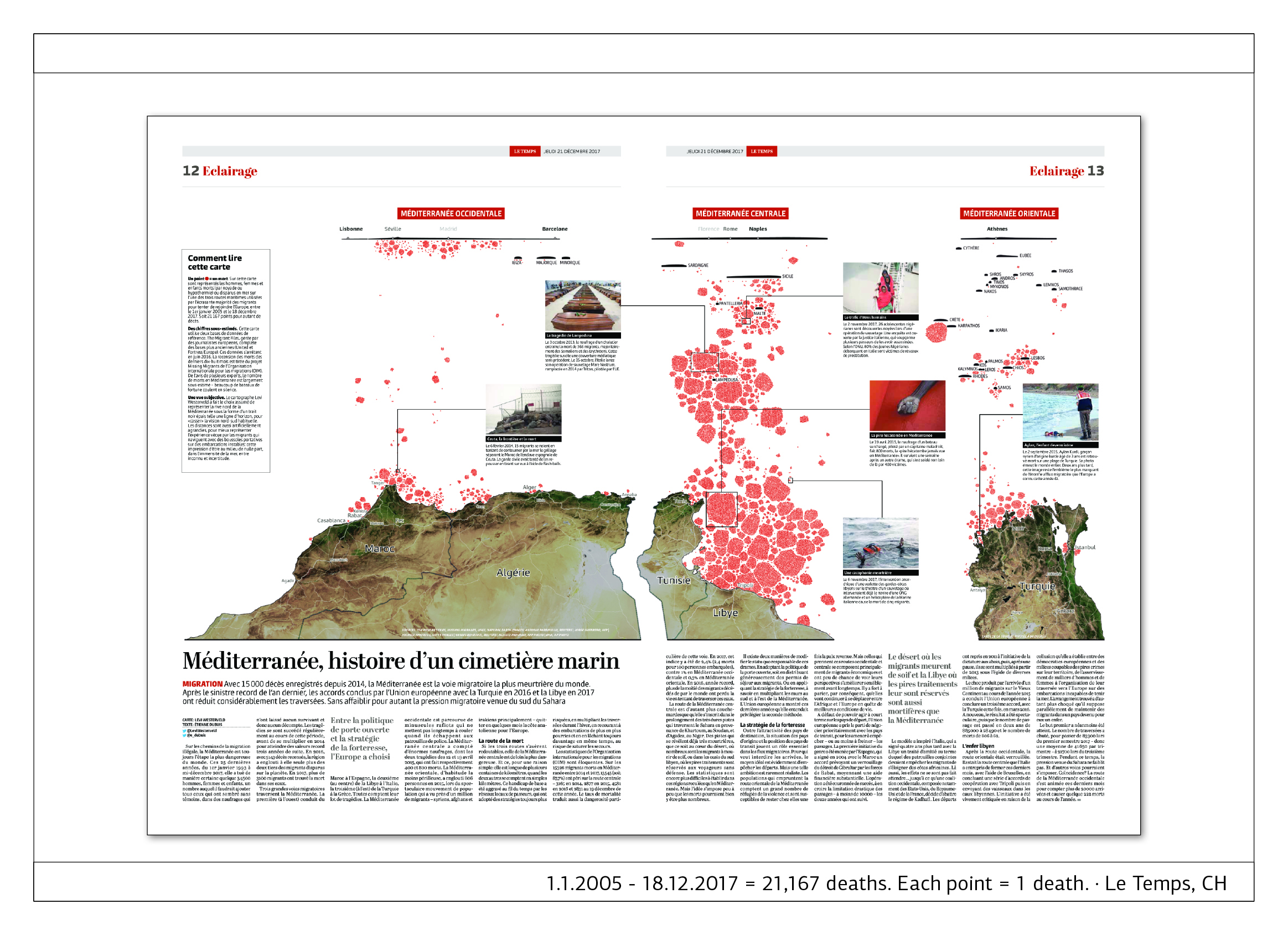 Trend Infographics: The Swiss newspaper Le Temps of 21 December 2017, page 12-13, shows parts of the North African coast. Each red dot symbolises a fatality. Between 1.1.2005 and 18.12.2017 there were 21,167 deaths. Most of the fatalities occurred during the attempt to reach the island of Lampedusa.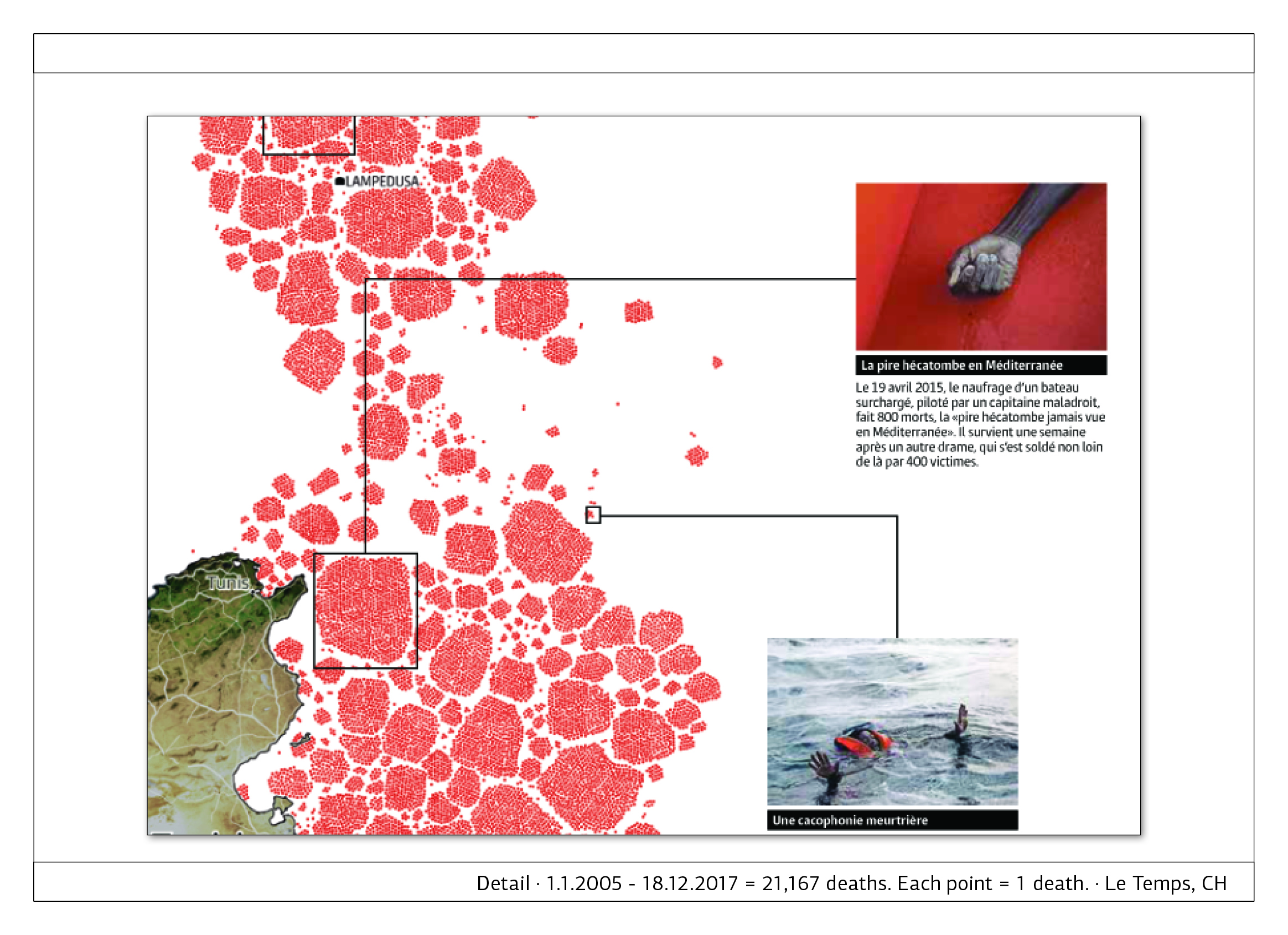 Trend Infographics: The Swiss newspaper Le Temps of 21 December 2017, page 12-13, detail.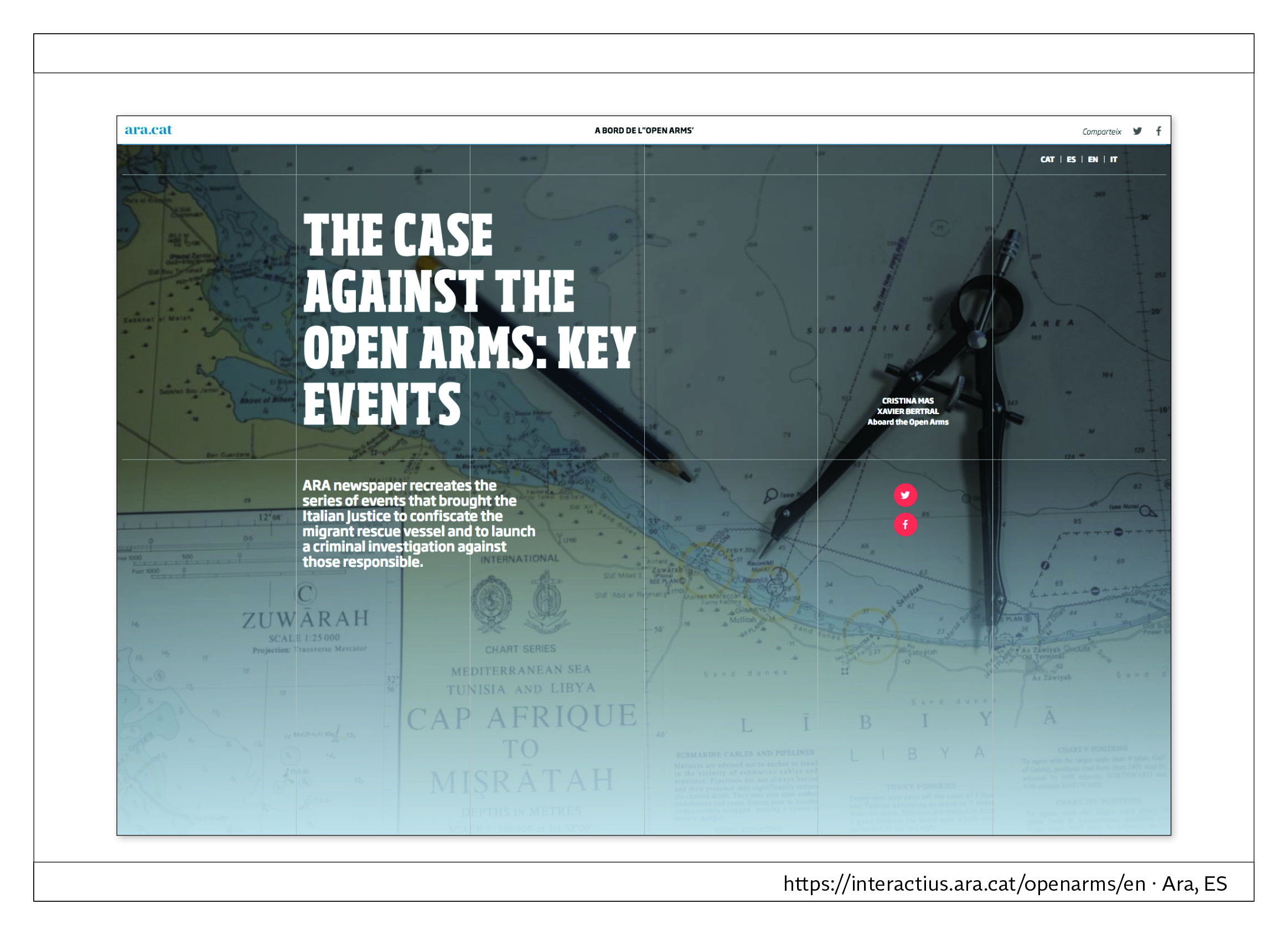 Trend multimedia report: The Barcelona-based daily newspaper Ara describes in a multimedia report a rescue operation of the ship "Open Arms" that took place on 15 March 2018. It is a combination of texts, animated infographics and videos. https://interactius.ara.cat/openarms/en (no date given)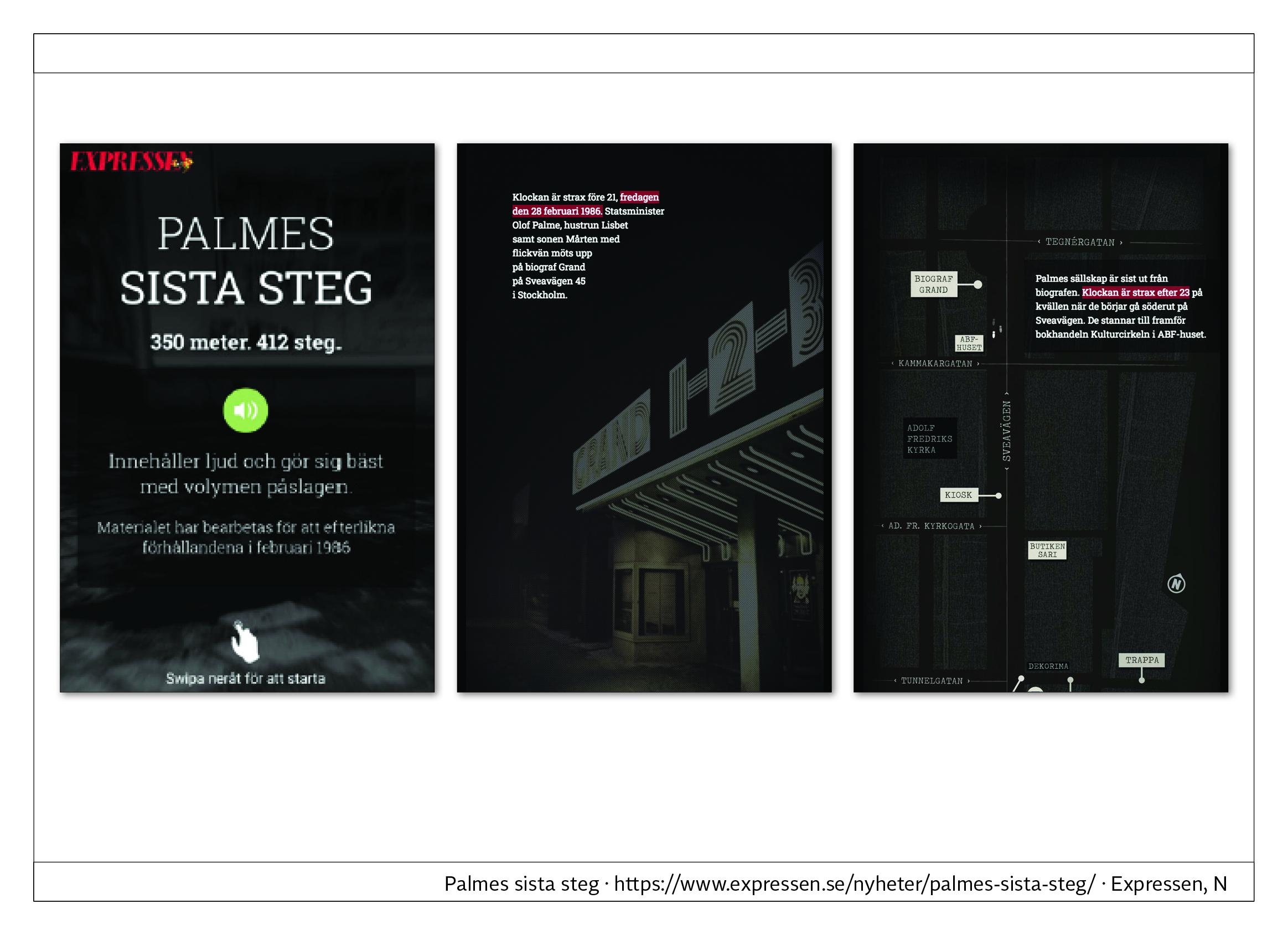 Trend multimedia reportage: The Swedish newspaper Expressen deals with a mysterious murder case: Olof Palme, the Prime Minister of Sweden, was murdered in 1986. Under the title "Palmes sista steg" – Palme's last path – his last 412 steps are reconstructed. This is done in a very intelligent way, as readers can determine the speed at which they absorb information themselves and, for example, add images and sound documents. https://www.expressen.se/nyheter/palmes-sista-steg/ (2016)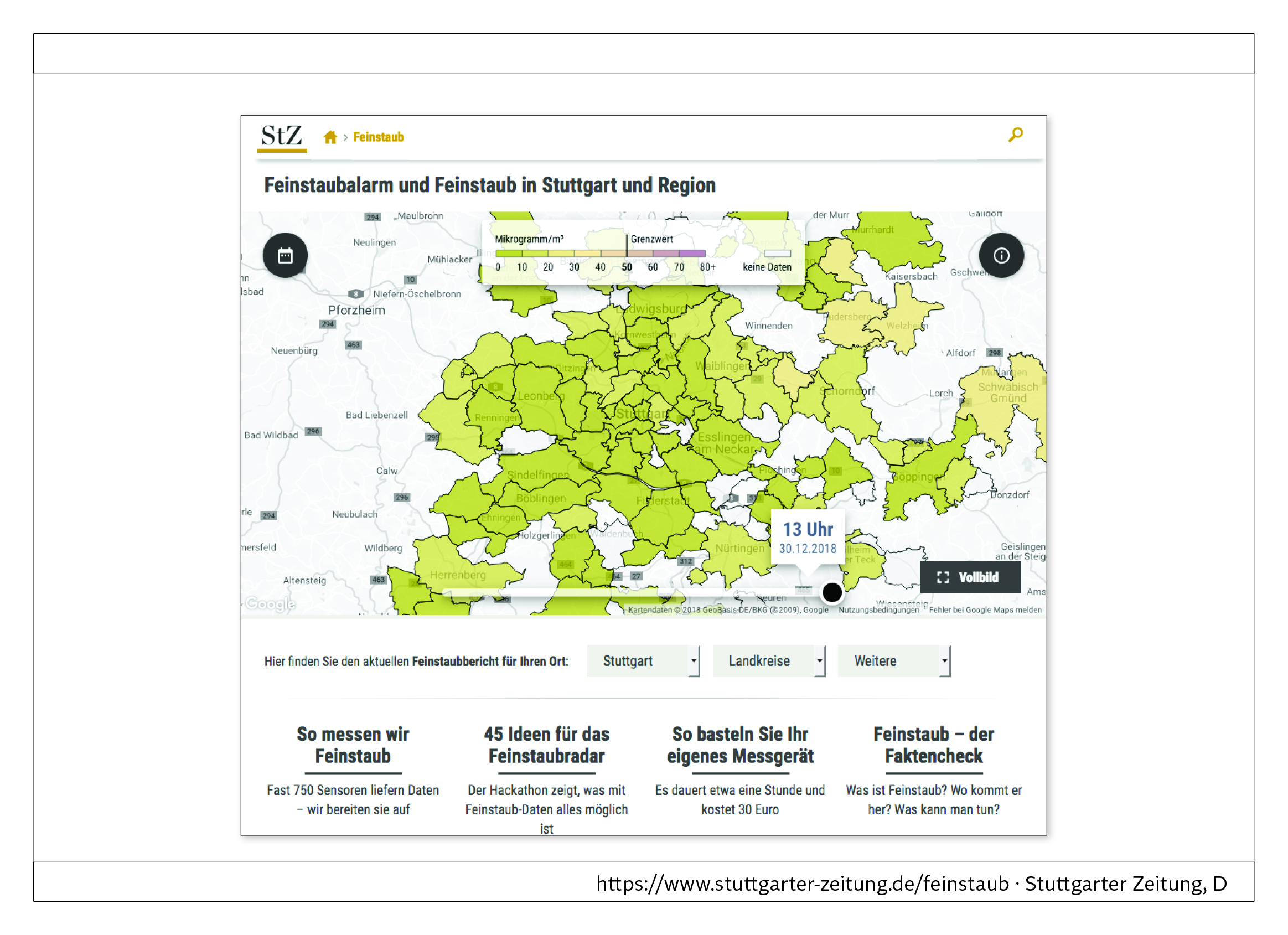 Trend data journalism: The Stuttgarter Zeitung has developed a fine dust radar. The newspaper writes: "With the particulate matter alarm, citizens in the entire region can check every hour how much particulate matter is in the air – on their doorstep. This is made possible by a dense network of more than 300 particulate matter sensors." The particulate matter alarm is constantly updated and is still active. https://www.stuttgarter-zeitung.de/feinstaub (no date given)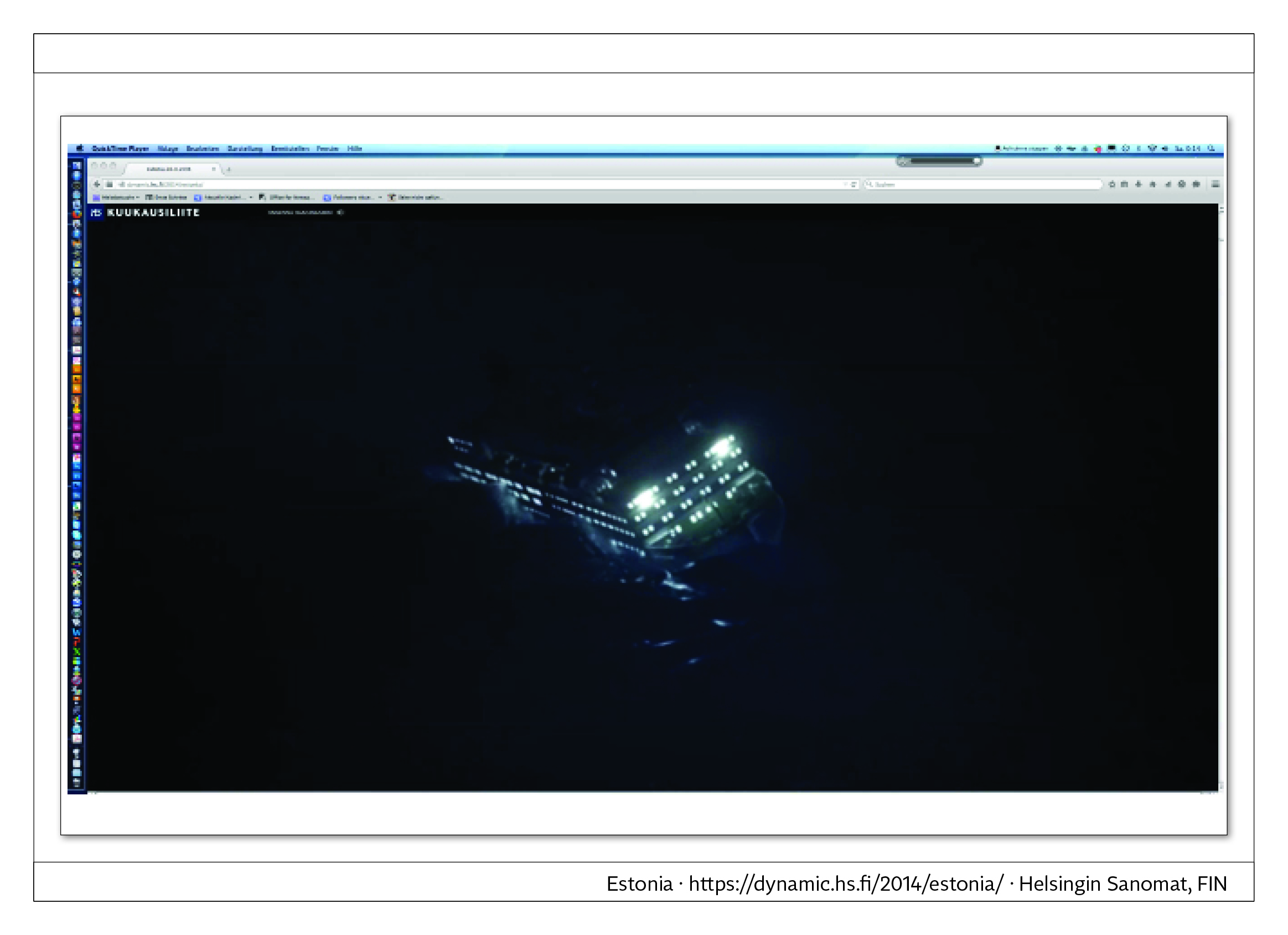 Trend animated film: The sinking of the Estonia is staged by Helsingin Sanomat as an animated film. The sinking happened in 1994 and the animation was produced on the occasion of an anniversary. https://dynamic.hs.fi/2014/estonia/ (2014)
Update: Media in the Corona Crisis

The media are among the winners of the Corona crisis, because people were looking for serious sources to inform themselves. We have compiled some current research results here.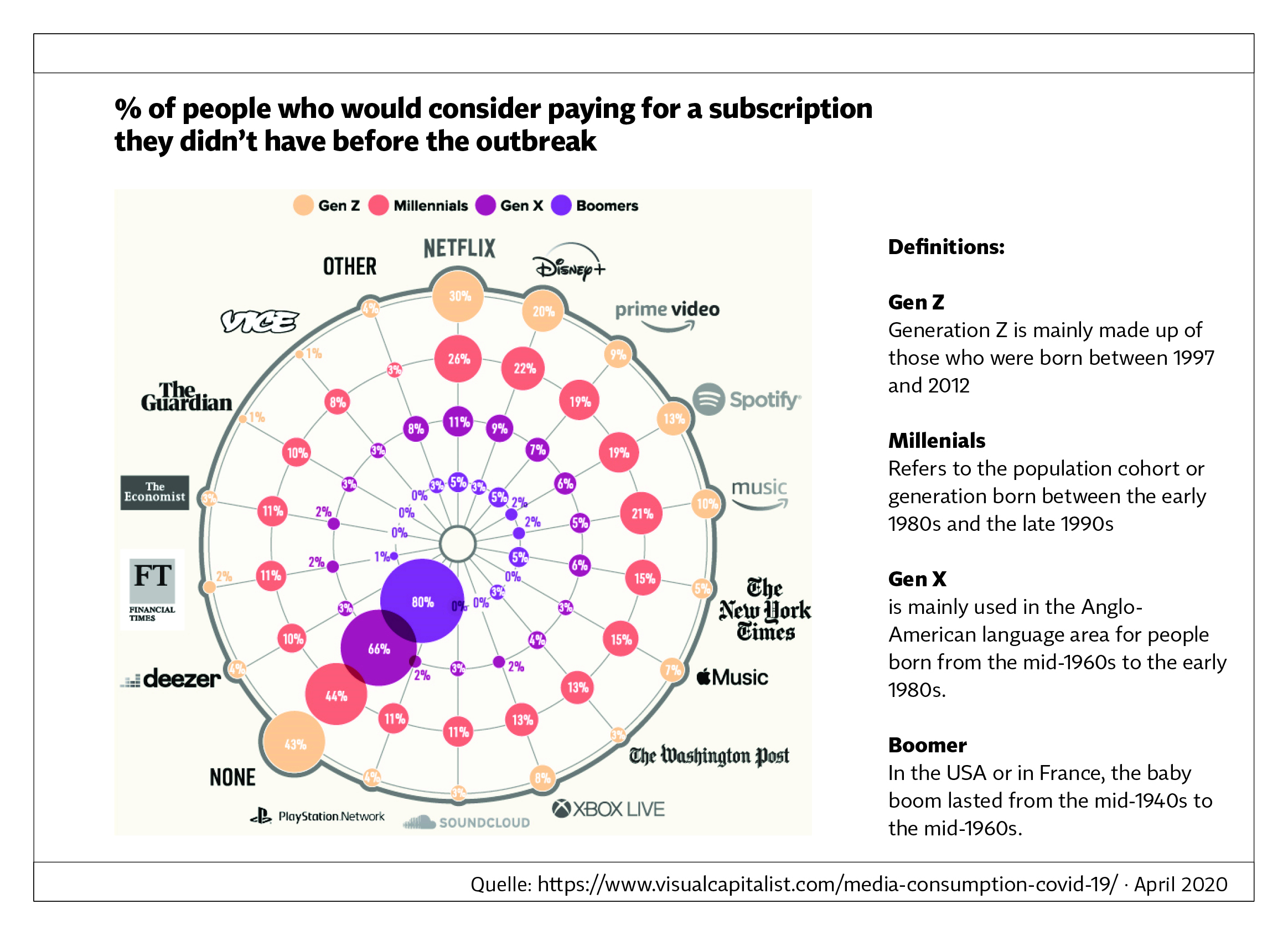 For example, the Global Web Index11 shows that all consumer groups are increasingly interested in subscriptions. This includes not only Netflix, Disney+, prime video, etc., but also traditional news media such as The Washington Post, The New York Times, The Guardian, The Economist and the Financial Times. A detailed result of the study: 10 to 15% of millenials consider paying for a subscription they did not have before the outbreak. This is not a subscription to a printed newspaper, but the all-round service of a media company.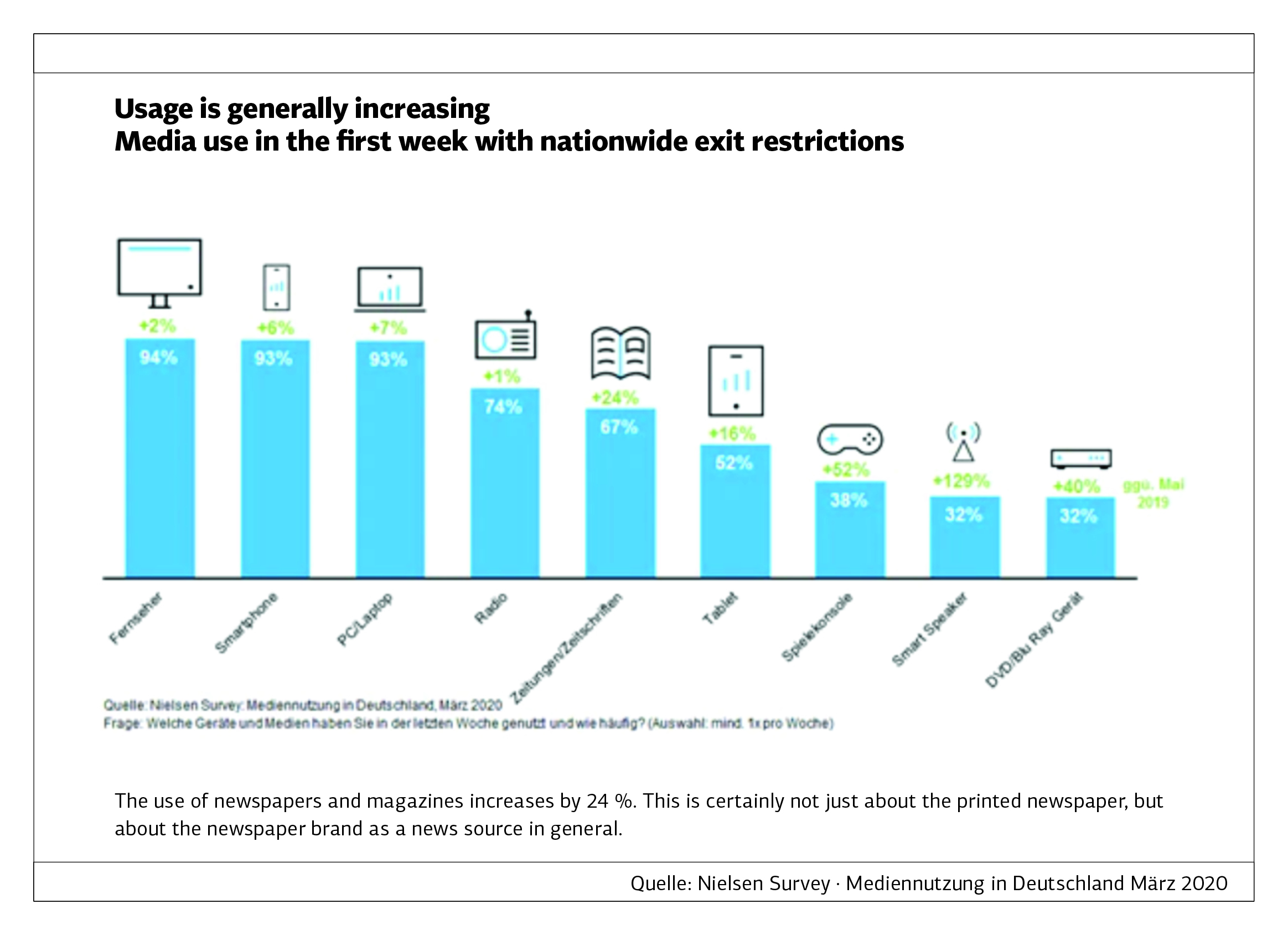 Media use in Germany: The use of newspapers and magazines is increasing by 24 %. This is certainly not just about the printed newspaper, but about the newspaper brand as a news source in general.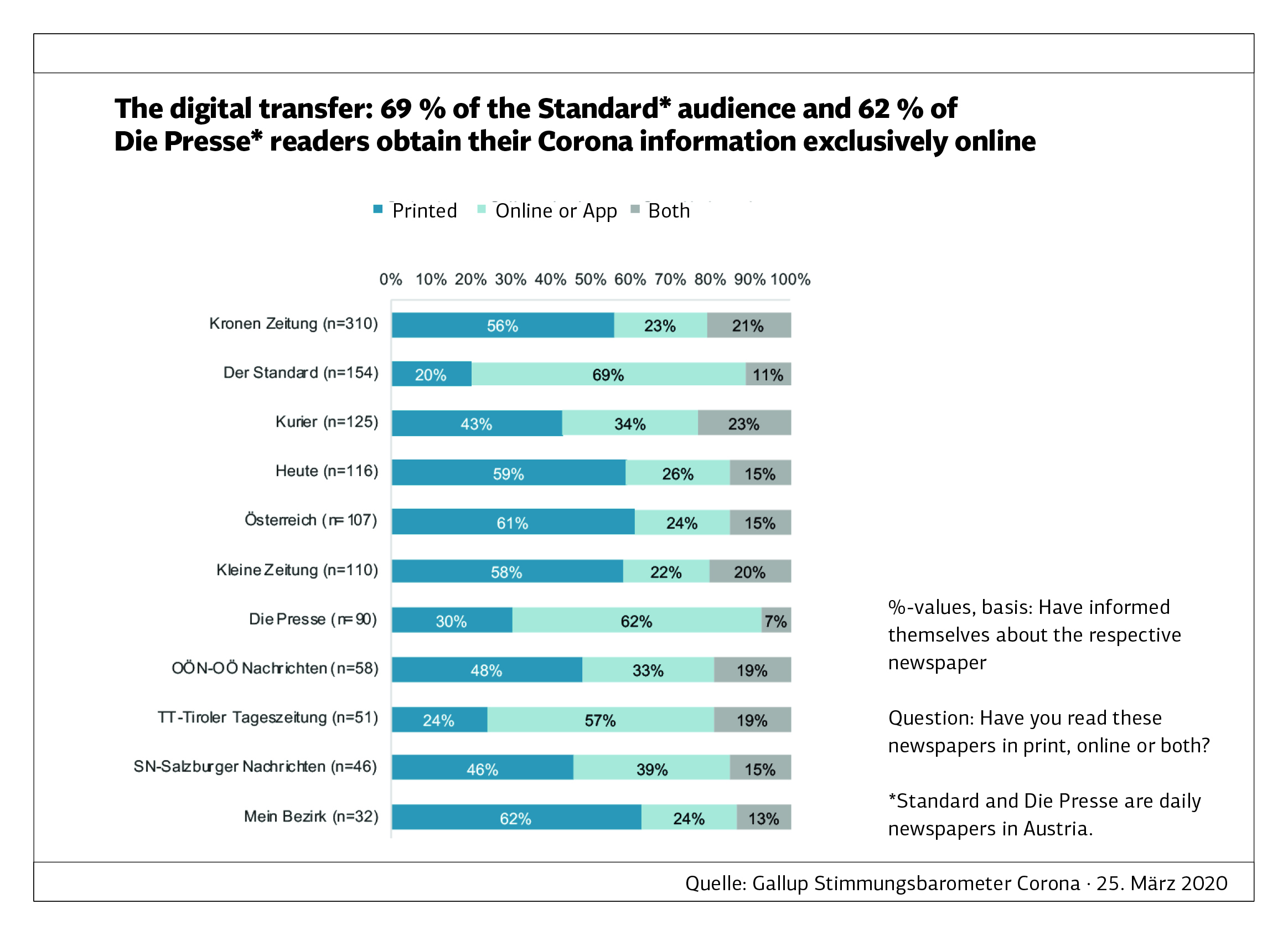 Digital change intensified: The corona crisis is accelerating digital change. For example, 57 to 69 % of newspaper users informed themselves about the latest developments in the corona crisis exclusively online. This is a good sign, because it shows that serious newspaper reporting is being transferred from print to online.
Footnotes
1) https://meedia.de/2019/12/11/meedia-jahrbuch-2019-unbequeme-wahrheiten-ueber-die-deutsche-zeitungsbranche/ (12. November 2019)
2) https://de.statista.com/statistik/daten/studie/72084/umfrage/verkaufte-auflage-von-tageszeitungen-in-deutschland/ (statista 2020)
3) https://meedia.de/2020/01/15/rekordjahr-die-new-york-times-verbucht-2019-eine-million-neue-digitalabonnenten/ (15. Januar 2020)
4) https://kress.de/news/detail/beitrag/142051-worauf-redakteure-in-lokal-und-regionalzeitungen-2019-achten-sollten.html (4. Februar 2019)
5) Zeitungsdesign und Leseforschung, Herausgeber International Editorial-Design & Research Forum, 2015, Seite 155 ff. ISBN 978-3-00-048574-9
6) drehscheibe+, Nr. 8, 2014, Seite 3
7) https://editorial-design.com/de/tschernobyl-1985-fukushima-2010/ (2012)
8) https://blog.feedspot.com/world_news_blogs/ (26. Januar 2020)
9) https://www.wuv.de/medien/gabor_steingart_gruendet_media_pioneer_mit_springer_an_seiner_seite  (7. Mai 2019)
10) https://archiv.berliner-zeitung.de/berlin/fussball-wm-manche-dramen-aendern-sich-nie-1546536 Es wird unter anderem eine Titelseite von 1990 abgebildet, auf der 13 Themen sind und zusätzlich noch acht Überschriften links oben in einem Anrissfeld.
11) https://www.absatzwirtschaft.de/so-veraendert-corona-die-mediennutzung-172020/
Norbert Küpper
studied visual communication at the University of Applied Sciences Düsseldorf and graduated with a degree in design. From 1981 to 2007 he had a teaching assignment for newspaper design at this university. In 1984 he founded the office for newspaper design. Since then he has redesigned more than 180 newspapers. He works mainly in the German-speaking countries, but has also redesigned newspapers in the United Arab Emirates, Poland, the Czech Republic, Slovakia and Italy. In 1989 and 2012 he researched reading behavior with an eye-tracking camera. Results are documented on the website www.leseforschung.com and in the book "Newspaper Design and Reading Research". In 1999 he founded the European Newspaper Award, a competition on newspaper design and concept. In 2019 the competition took place for the 21st time. In 2019 he was invited to give guest lectures at the ZHdK – Zurich University of the Arts – and at the Augsburg University of Applied Sciences. In June 2020, at the invitation of the Danish publishers' association "Danske Media", he spoke in Copenhagen about newspaper trends in Europe.
https://editorial-design.com/wp-content/uploads/2020/06/Logo-Quadrat-Küpper-blau-1.jpg
3285
3285
Norbert Küpper
https://editorial-design.com/wp-content/uploads/2018/04/logo-zeitungsdesign.png
Norbert Küpper
2020-06-23 18:25:15
2022-03-09 22:54:39
Trends in newspaper design print and online 2019